---
My Notes on the Van Someren alias Kurtze family of Zwolle in Overijssel, The Netherlands
Kurtze to Van Someren!
During the many years that I researched the genealogy of my Van Zomeren family I had no inkling that they were anything other than a Dutch family. I hit the proverbial "brick wall" with my ancestor Daniël van Someren in the early 18th century when he was living in the city of Zwolle. I could not discover his ancestry despite years of research and communication with just about every Dutch municipal archives. Sometimes you cannot see the "wood for the trees"; but after years of effort I did some 'lateral-thinking' and reassessment of possibilities, no matter how strange. The result was that I discovered the parentage of Daniël van Someren, but it was not what I expected! He was baptised as Daniel the son of Christiaan Koerts and Helena Berends! This revelation made redundant my many years of research into the Van Someren family, but at least I now had a new focus for my genealogical investigation.
There are various written forms of the surname of Christiaan Koerts:
Christian Curtse has his name recorded for the first time in Zwolle in a document dated 29 April 1679 caused by his wedding to Sophia Peters in the Dutch Reformed church.
Christian Kurtze has his name recorded in a document dated 24 May 1691 at the baptism of his first child in the Lutheran church in Zwolle; it probably represents the phonetically correct form of his (German) sounding surname before 'contamination' by Dutch clerks into a Netherlandic form.
The surname is recorded in documents dated 3 August 1692, 20 January 1695, 24 September 1696 & 12 January 1698 as Kurtze. Originally my Dutch researcher Duco van der Vlerk thought the surname was written as Kurße pronounced Kursse with a long 's'; but after some critical examination by myself of the original Lutheran baptism register documents it became clear that Christian's surname was in fact written Kurtze, the German 'tz' being confused with the similarly written 'ß'; also in the word Kurße the ß should normally follow a vowel and not a consonant like 'r'.
The origin of ß from long s and z is reflected in the name Eszett (meaning SZ). When used in words, it sounds exactly like "ss". It is usually represented as ss in modern script. In the Lutheran German baptism registers we find the first written examples of the surname Kurtze and written by a German speaking compatriot; so it is probably a good example to use in order to determine the more phonetically correct form of the surname. The 'K' is pronounced as in 'key' or thick; 'u' as in 'up'; 'r' as in 'road'; 'tz' a sharp 's' as say 'quartz'; 'e' as an 'u' in 'circus'; so we have 'Kurtze'. In three of the baptism entries the surname Kurtze has a small squiggle like an 's' in reverse above the u, this symbol is the so-called U-Bogen (to help distinguish a letter u from a similarly written n); which reinforces the assumption that the original phonetics of the surname are akin to Kurtze and meaning 'short' rather than a pet form of Conrad. The later Dutch written form of Coerts or Koerts is a bastardized version written by non German clerks with an incorrect etymology. So we have phonetically Kurtze (or possibly a doubtful Kurße).
An example of ss being related to the sound of tz can be gleaned from research into the German Zersen family. The family name Zersen / Zerssen is a place name with roots going back to the village of Zersen, Germany. The earliest known representatives of the name Zersen / Zerssen use the double "s". In all, there are only 38 Zersen / Zerssen family units in the world, a very ancient and a very small group. Current research is trying to establish when the Zersen family left the village of Zersen and how they may be related to members of the Von Zerssen line. Various spellings of the name from 1432-1564 include: Von Zerssen, Von Tserssen, Von Certzen, Von Tzertzen, Von Zertzen, Vann Zertzenn, Von Sertzen, Von Certsen, Von Zerzen, Von Zersen. It can consequently be noticed that similarities of phonetic relationship in the surname Kurtze could be: Kurtse, Kurze and Kurse.
Christiaen Koerts has his name recorded in a document dated 9 February 1684 being the Testament of his wife Sophia Peters and written in Dutch; so Koerts is a Dutch clerk's phonetic version of his German name Kurtze.
Christijaen Coerts has his name recorded in a document dated 9 August 1690 caused by his wedding to Helena Berents in the Dutch Reformed church; so Coerts is a Dutch clerk's phonetic version of his German name Kurtze.
Christian Kurtze has his name recorded in four Lutheran (German written) documents dated 3 August 1692, 20 January 1695, 24 September 1696 and 12 January 1698.
Between 1698 and 1700 Christian Kurtze changed his faith from Evangelical Lutheran to Dutch Reformed, which was the Dutch state religion and officially used in the city of Zwolle. From this time onwards Christian Koerts has his name recorded in documents written by Dutch clerks, who misinterpret his German surname Kurtze (short) for the Dutch surname Koerts (son of Koert).
Christiaan Koers has his name recorded in documents dated 16 February 1695, 18 April 1700 and 19 February 1702.
Christiaan Koerts has his name recorded in documents dated 9 December 1703 and 22 May 1707.
Christiaen Koerts has his name recorded in a document dated 27 July 1710.
Kristiaen Koers has his name recorded in a document dated 23 March 1713.
Christiaan Coertsen has his name recorded in a document dated 16 March 1715.
Christiaan Coerts has his name recorded in a document dated 21 March 1715.
Christiaen Cours has his name recorded in documents dated 26 March 1718 & 26 March 1718.
Christiaan Coertsz has his name recorded in a document dated 9 April 1718.
Coerts or Koerts is a very common patronymic surname in the Netherlands and there are multiple variations on how it is spelt; to find a Christiaan Koerts in Dutch records that could be identified as my paternal ancestor Christian Koerts would be very difficult if not impossible. I had at one point in my research resigned myself to the fact that I had hit a barrier which made further paternal research 'nigh on impossible'. Then came the revelation that Christian was in fact surnamed Kurtze and he had what appeared to be an hereditary surname and not a transient patronymic surname, opening up a whole new avenue of research possibilities.
So why did the family change their surname from Kurtze to Van Someren? I do not know for sure, but I can make some assumptions. Christian Kurtze was a Lutheran, German, soldier. Many German states encouraged their young men to join their army and for payment from the wealthy Dutch government these states would send their soldiers to defend the Dutch Republic from aggressors such as the French. A typical example of this relationship is with the petty independent County of Waldeck which was Lutheran state whose Earls had a long and loyal relationship with the Dutch Republic in supplying soldiers and receiving payment. Georg Friedrich the Earl of Waldeck was a commander in the Dutch army and fought the French at the battle of Seneffe in 1674. In that particularly bloody battle participated the Veerssen Regiment and it is recorded that its' colonel Laurens van Veerssen was killed; this regiment then had a new colonel in 1675 called Willem Ter Brugge(n). Christian Kurtze arrived in Zwolle with the Ter Bruggischen or Ter Bruggen Regiment in which he was a soldier on the 3 December 1678 and was part of the Zwolle garrison. So it is entirely possible that Christiaan also served in the same regiment at Seneffe four years earlier.
Christiaan Kurtze is not found in records using the surname Van Someren; for some unknown reason only his children used this surname; that does not mean to say Christiaan Kurtze did not use it, but there is no written evidence. If he adopted Van Someren as an informal byname or nickname then it was possibly while he was in Zwolle. He was in garrison in Zwolle in the Ter Bruggen regiment, which had four companies in 1681, each company had its' own captain, a lieutenant, a ensign, two sergeants, three corporals and thirty-seven private soldiers. One of the companies was called "Van Someren" named after its' captain who can be identified as Willem Hindrik van Someren alias Willem Hindrik van Somer alias Willem Hindrik Hofman van Somer(en) from Alkmaar.
At all the betrothal and wedding registrations of Christiaan's children their surname is Van Someren, except at the wedding of Jan Tobias Koers in 1714; but in that year Christiaan was still alive, but when his other children were wed, he had died. So it appears that whilst Christiaan is alive the family use the surname Koers and its' variants; They also use Coerts in the 1718 [Momberschap], but from 1719 they all use the surname of Van Someren. It is possible that at some stage Christian was under the command of this captain as a soldier in the 'van Someren' company and for this reason his children adopted the van Someren surname.

What could be the reason for changing their surname from Coerts to Van Someren? Maybe the situation of the family was not clear at that time; Helena Berents was marrying again to Jan ter Horst and he was marrying for the second time and already had one son. It was the third marriage for Helena Berents who brought into the family six children from her deceased husband Christiaan Kurtze / Coerts. Maybe the family wanted to be more Dutch and shed their German Lutheran heritage, which would be to their advantage in the Calvinist city of Zwolle, especially if they wanted employment from the city authorities.
The definitive but indirect link between the surnames Kurtze and Van Someren is as follows: Christiaan Kurtze married Lena Berends and one of their sons was named Hermanus Kurtze, who as an adult youth was employed by the Dutch East India Company (VOC) as a soldier. In the VOC pay registers he is named as "Hermanus van Someren van Swol" (Zwolle) and crucially he mentioned his beneficiary as his mother "Lena Barends" who received a portion of his yearly payment once a year whilst he was on active service at Batavia on the island of Java.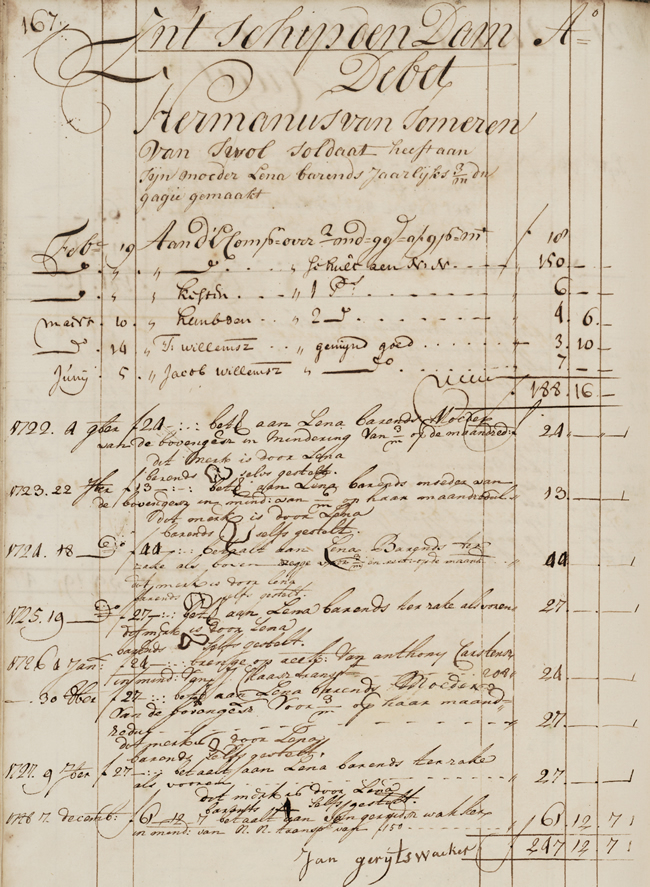 1721 contract for Hermanus van Someren from Swol (Zwolle) to be employed as a soldier in the Dutch "United East Indies Company" [Vereenigde Oost-Indische Compagnie (VOC)]. It shows his agreement of yearly debits to his mother Lena Barends, who probably made the annual sea voyage across the Zuider Zee from Zwolle to the VOC offices in Enkhuisen to collect the stipend from her son. Lena could not write but you can see her mark against each payment.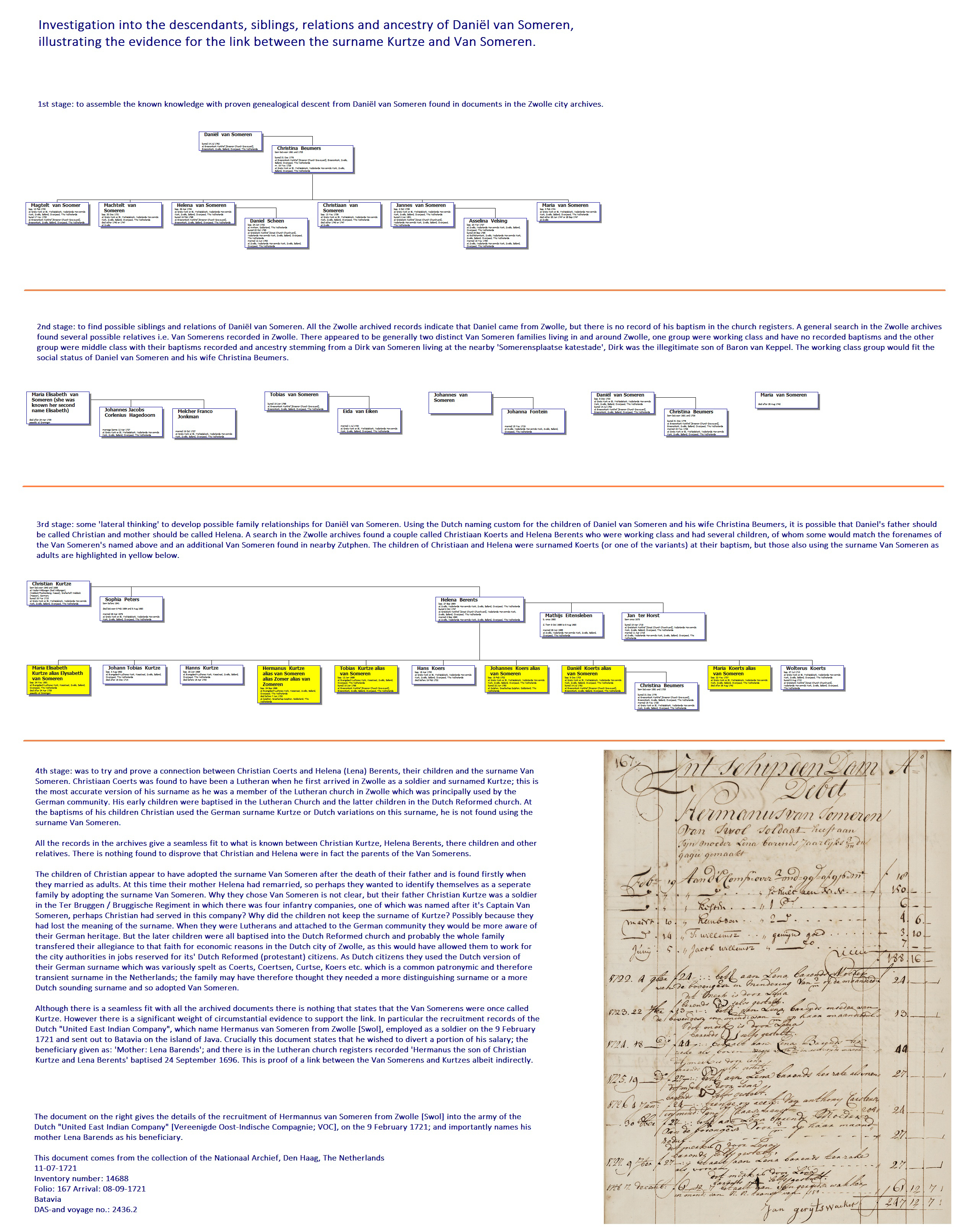 Chart illustrating the relationship between the Kurtze and Van Someren surnames.